The saying goes 'first impressions last' and nothing could be more accurate in the sale of your home. This means a clean and tidy interior and exterior that will attract the eye of potential buyers. Since your property would be on a long list of properties for a buyer to see, it's crucial that your home stands out. To learn more about how to style your home ready for sale click below to see more tips for selling your house.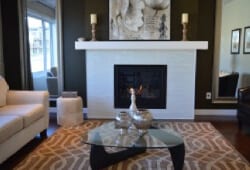 Use the time of your open inspection to your advantage. If it's morning brew some coffee or tea, set up a breakfast setting at the table and opt for cool tones to play off the natural light throughout the house. A late arvo setting may include a bottle of wine, electric fire, and warmer tones to suite the colour of the sun. It's all about using what you have to show your home in the best possible light.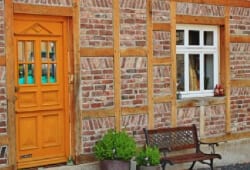 We all judge a house by the curb appeal. When in doubt, clear it out.
Edging and mowing the grass is just the start. If your vegetable garden has
seen better days, pull it out and lay some simple fresh mulch. Buy or
borrow a few pots to place near the front door to frame it and drop in
some fresh flowers. Hose down your veranda and if you still have that
paint, slap a fresh coat on the front door for good measure. Don't forget
the welcome mat.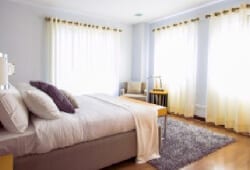 Modern décor is chic, but it can be hard and cold. Fluff up some extra
pillows for the bedroom, drape a throw rug, crack out the nice table
runner, and even impress by placing plush cushions over boxy chairs.
Borrow a large area rug for a cold kitchen floor. The key here is to stay
large and in charge- it's softness not clutter.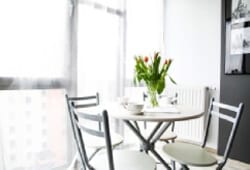 Feeling comfortable in a room is largely dependent on scale. Choose a few
accessories that vary in scale i.e. large rug, mantle candlesticks, and small
greenery or light fixture. Having too many things the same size feels less
comforting, especially if they are smaller than you. Less is always more.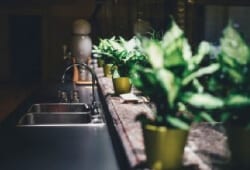 Sometimes it's tough to put your finger on what's missing in a space. It's
probably something green, it's only natural and it actually reduces stress
and contributes to a healthier home and body. It can't be said enough, place
some fresh floral and greenery around your home. If green is not your
colour, you can opt for a vibrant citrus or a bowl of sophisticated
pomegranate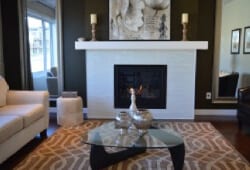 When staging your home is not an option- use what you have! There are a
few tricks to creating more space. Bring in an oversize mirror to place in a
small hallway or bathroom, turn on all your lights to help reflect light on
the ceiling, and open any sliding doors leading outside. Take away a few
pieces of furniture. If you have six seated dining, store two chairs to create
more floor space, or move that massive BBQ to the garage to create a
more dynamic outdoor space.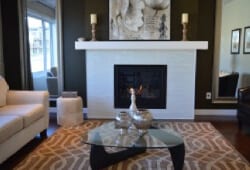 Replace blown light bulbs, fix that loose handle, and refill the tissue boxes.
Go farther by opening up the windows, using a fresh lemongrass spray, or
by lighting that fancy candle you've been holding onto. It's about creating an
inviting atmosphere. Rearrange your table setting, or move your sofa away
from the corner, reorganising can help you spot the awkward spaces.
Written by Chelsea Meyer, Interior Designer & Property Stylist 
Published by Meier Paul Real Estate

Selling your home is one of the most personal and financially heavy decisions you'll ever need to make. From the way your home is presented online to preparing for open inspections, we will provide you with the tips for selling your house you need in order to exceed the buyer's demands.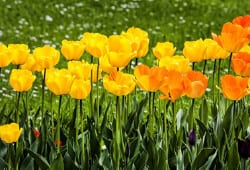 Define Lawn Edges: Giving your lawn the 'tamed' look which gives an appearance of a lower maintenance garden. It is important to separate your lawn from the garden bed, path or fence. Timber or bricks can be used too!

Add some plants to the garden:  Plants help provide a visual barrier and sound improvement from overlooking neighbours and busy roads.
Mulch and Weed: By weeding and mulching the garden it will help your garden appear low-maintenance and well kept. Try using something that is nice on the eye and avoid mulches such as dyed woodchips.

Limit the number of plant species: Although it's good to keep a small variety of plant types, keeping it simple will give your garden a more uniform look.

Lay new lawn: New lawn will also make any home sparkle. If your lawn is a bit patchy, throw some over sow lawn seed to thicken and green up the lawn.

Add colour and form: Add welcoming planters to entranceways, fill any pots in the garden with some bright flowers to give your garden a lift. You can always take your potted plants with you!

Prune Conservatively: 

This will make your home look well-maintained and cared for.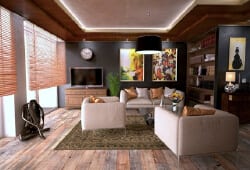 Ask for guidance: Ask your agent to tell you where you need to de-clutter. Asking someone who does not live in your home will help pinpoint the areas you need to focus on first.
Look beyond what you can see: Clutter likes to hide in small places, corners, shelves or under beds. Potential buyers will open cupboards and draws so you must make sure they get the best impression.
Sort things out into 3 categories:
Things moving with you

Things to donate

Things to throw out.
This way you will help stay organised while your property is on the market.
Get a jump start on packing: This will help you keep the basics of your home, which will assist in the styling of your home. This will also keep your personal items safe while your home is on the market.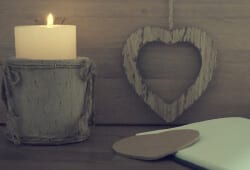 Clean Up: Assuring the property is clean and tidy is obvious, but also assure that cupboards, wardrobes and even the oven is clean since buyers might indulge in a look!
Invite light and air: Open all windows and doors before the inspection to keep the property as clean and fresh as possible. Assure all curtains and blinds are open.
Help camouflage pets: Deodorise your property and clean all traces of hair from the furniture and floors. Remove any litter boxes or droppings from the yard and it's always good if you take your pets elsewhere during an inspection.
Personal touches: Fresh flowers, small dishes of sweets near the door or a few photos can help make your home feel less artificial and can spark an emotional connection with a buyer.
Smell-olicious!  Remove any unpleasant smells such as shoes. Your home will feel more inviting with a small scent of a candle, air freshener or even freshly brewed coffee!
Create the right temperature: This will effortlessly demonstrate that your home can cope with all climates, so keep an eye on the weather on the day!
Safety First: Ensure all personal belongings are out of sight and out of reach.
Head out during the inspection: Let the agent do their job! You should leave the potential buyers to wander around your home feeling relaxed. If you feel more comfortable to stay, set up an area on your property that can act as a retreat as the buyers explore.